Profile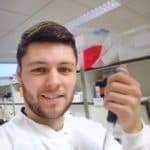 Danny Ward
Hi there! I'm a PhD scientist trying to stop deadly bacteria from infecting things 👨‍🔬🔬💡
Curriculum Vitae
Education:

University of Reading, University of Leeds, John Innes Centre/University of East Anglia

Qualifications:

BSc. Biological Sciences, MSc. Biotechnology, PhD Molecular Microbiology (in-progress)

Work History:

Before I started my PhD, I used to work in a supermarket part-time alongside my studies...so quite different to what I am doing now!

Current Job:

PhD Student

Employer:

John Innes Centre
Favourite thing to do in my job: I like to do experiments...especially if they give me cool results

About Me

I'm a PhD student based in Norwich working on understanding bacterial diseases

Read more

Hi, I'm Danny! I'm a PhD student based at the John Innes Centre in Norwich.

I haven't always been here in Norwich though. I grew up in a place called Barking in East London. During secondary school, my family and I moved to a place called Upminster which is in the London borough of Havering.

During my A-levels, I decided that university was the right choice for me. This led to me going of to the University of Reading for 3 years to do a degree in biological sciences. After this, I went to the University of Leeds to do a masters degree in biotechnology. Finally I'm now in Norwich…so I've travelled around a bit!

Other stuff about me?

I go to the gym a lot. Why? Well, fun fact about me….I have got such awful hand-eye co-ordination its pretty much the only thing I can do! I gave rowing a go at university which thankfully doesn't require much hand-eye co-ordination either.

I really enjoy a thing called science communication. This is pretty much as it sounds, its just communicating science! An important aspect to it though is that it has to be free of any overly-technical words, assuming any prior knowledge is a big no-no and it has to be entertaining and engaging. I like the challenge of that and also I really like it when people who weren't previously interested in science finds something sciency cool for the first time.

This is me doing sciency stuff 👨‍🔬

My Work

I am trying to understand how certain micro-organisms are able to infect things....and also how we can stop them

Read more

I am interested in how certain types of bacteria are able to infect things.

I'm using a bacteria called Pseudomonas as a model organism to understand infection in similar bacteria. This bacteria can infect us humans as well as crops. Its a major problem for human-health and agriculture.

This type of bacteria uses a specialised infection system. This is called the type-III secretion system. This system looks like a tiny little needle on the side of the bacteria. It can use this to inject all sorts of nasty stuff in to its target host to infect.

I'm trying to understand in more detail how this works and whether or not it would be a suitable target for antibiotics to try to stop them infecting.

I'm doing this for my PhD degree which stands for Doctor of Philosophy. This doesn't mean I go around pretending to be an ancient Greek scholar. The word philosophy refers to the original meaning of the word – a love of knowledge. My PhD will take 4 years in total and I'll have to submit a big technical science book filled with all the research I have done called a thesis. It wont be a quick read though unfortunately, most theses are 50 000 to 100 000 words long. On the bright side however, at the end of my PhD, I will get to call myself Dr. Danny Ward!

Here are some of the people I work with in my department:

My Typical Day

Science experiments in a laboratory to understand more about bacterial infection and how to stop it

Read more

My day starts early usually, I get up and head to the gym. Following this its straight off to the lab to get stuck in to some experiments.

Experiments are different every day. Sometimes, I will be working with DNA, the genetic instructions of life. Other days I will be growing bacteria. I also do a lot of work with plants and also carry out many biochemical reactions. My days are very varied. Ultimately, I will be carrying out these experiments to move me ever so slightly closer to understanding bacterial infection better.

Some examples experiments include the following:

– Infecting a model plant organism to understand how bacteria are able to infect
– Making specific changes to bacteria to stop them being able to infect so well
– Purifying little parts of the bacteria that they use to infect their targets so I can carry out reactions with them to see how these parts work
– Looking at the bacterial genome. This is all of its genetic information which tells it how to do stuff…like how to infect things.
– Working out the structure and shape of little bits of the bacteria responsible for infection
– Working out what biochemical reactions take place in the bacteria to control and regulate bacterial infection

Everything I do in the laboratory has to be written up in a lab book. This tells other people exactly what I have done in a particular experiment and what results I saw from that. This is really useful for future scientists who either want to repeat your work to prove its correct or want to build upon your work in their research.

My day can also consist of attending meetings as well as emailing or talking to fellow scientists or contacts. Science is a very collaborative field, lots of people work together and share ideas all the time. I will often speak to people all over the world on a daily basis to help with my work or to work on other projects.

Staying up to date with the latest cutting-edge science is also really important for a researcher. This means we usually dedicate some of our time to reading technical scientific research articles or attending guest lectures usually from people who come from all around the globe to talk about their area of expertise.

Once I have finished my work for the day, I head home. Its time for some food and some chill-out time!

Here are some shots of my work that I do in the lab:

What I'd do with the prize money

I'd like to fund outreach sessions in areas where science isn't popular to show how important it really is

Read more

I'd use the money to fund outreach sessions in areas where science isn't seen as important. This would be in areas where people choose not to study science, where people struggle with science or where not many people work in science.

There are usually reasons behind this and reaching out, often if the first step. Many communities may have had limited exposure to science and its importance.

This project could be here in the UK and/or abroad in developing nations.

An example of the kind of activities this would include would be to show off all the cool inventions and technology which have been made possible through STEM, table-top experiments to get people involved to explain some of the concepts behind the technology and also a game where people guess how new or old they think a scientific invention/technology is.

My Interview

How would you describe yourself in 3 words?

Enthusiastic, Interested, Driven

What's the best thing you've done in your career?

Starting a PhD, I get to do science and research every day

What or who inspired you to follow your career?

Growing up, I used to really enjoy science TV shows. Still to this day science media people inspire me. People like Brian Cox, Neil DeGrasse Tyson, Bill Nye and David Attenborough all left a lasting impact on me. They showed that science doesn't have to be technical or overly-complex, it can be for anyone...if you are interested in learning, thats more than enough!

What was your favourite subject at school?

Biology. I liked learning how living things around me worked

What did you want to be after you left school?

I wanted to be a scientist!

Were you ever in trouble at school?

A few times I forgot my homework...I would have used the "my dog ate my homework" excuse but unfortunately, we never owned a dog!

If you weren't doing this job, what would you choose instead?

I would probably be working somewhere in the biotechnology industry. Biotechnology is using biology to make things for us to use. These include things like medicines or improved crops.

Who is your favourite singer or band?

I really enjoy anything by the Foo Fighters

What's your favourite food?

Chocolate. I have a massive sweet-tooth!

What is the most fun thing you've done?

Drove a convertible Lamborghini 🚗🏁

If you had 3 wishes for yourself what would they be? - be honest!

To be better at learning German (its hard!). To be better with maths. To have more hours in the day.

Tell us a joke.

How do you organise a space party? You planet.
---
---
---