Students! Did you do your profile survey? Check your email for a chance to win a £20 voucher and tell us what you think now!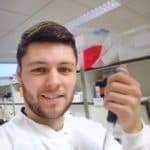 I still can't quite believe I am a winner! I am so very grateful for everybody's votes. I had such a fantastic time taking part in I'm a Scientist this year. I found it to be a lot of fun. When I first signed up to I'm a Scientist, I didn't really know what to expect, but I am so glad that I did now! I'd like to say a massive thank you to everyone involved with I'm a Scientist this year! Students who asked so many brilliant and thought-provoking questions, the staff and moderators behind the scenes who made things run smoothly, the scientists and of course the funders who made this all possible – thank you all!
Since starting my PhD at the John Innes Centre in Norwich, my interest in science communication and outreach has grown more and more as time goes by. It's so important to share what makes science great and what us scientists are working on. I'm a Scientist has been such an excellent avenue for this. A few examples of questions I got asked include "why did you want to be a scientist?", "what makes diseases infectious?" and "what is a PhD?". Just by these three questions alone, you can begin to see the diverse nature of the questions. I thought this was wonderful to see so many students genuinely interested in research and the life of a scientist.
I'll be honest, at secondary school… I didn't even really know what a scientist was or how you became one. I had never met anyone who worked as a scientist either. I think a competition like I'm a Scientist is such a brilliant way to get us scientists out there to help show what being a scientist is all about to the next generation.
During the competition, I was in the Wellcome Trust Epidemic Zone where I shared the space with some really great scientists all working on very different things from very different backgrounds. I thought this was fantastic and really helped to highlight the diverse nature of science and the breadth of research that takes place.
I hope that everyone who took part enjoyed it, I know I did! I could not recommend I'm a Scientist more if you are considering taking part. It is a very rewarding experience that I am proud and privileged to say I got the chance to be a part of it.
Scientists! If you'd like the chance to win funding for your own public engagement work, apply for the next I'm a Scientist, Get me out of here: imascientist.org.uk/scientist-apply